So today I thought I would do a little weekend update and link up with Sami to discuss my pretty busy weekend. So Saturday began with waking up at 7:30am, breakfast, the news, etc. then off to drive over to nCn's house to begin the adventure to Lynchburg with CW & eCs as well! So off we went and unfortunately the drive included a lot of downed trees since the Carolinas/Virginia had an awful storm Thursday night. We arrived at the first J.Crew Clearance Center around 10:30 (25 Millrace Dr.) and found out they were having an additional sale. This location had a lot of swimwear, a men's section and a bit of everything else but beware of the wait for a fitting room since they only have three available. I tried on a few things and ended up with the dress below for under $40.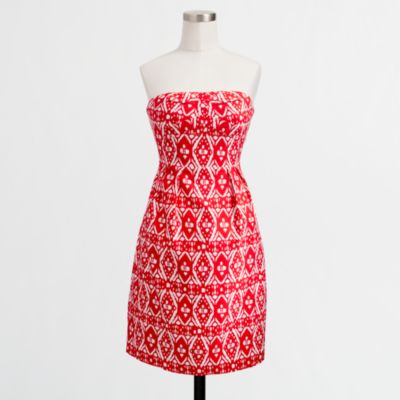 No Longer Available.
After shopping adventure #1 we checked out a place to eat and the lovely people at the Millrace location recommended we try Depot Grille. It's a restaurant right off of the train tracks (live ones where you can see the trains go by) built in a railroad car.
They also have crayons out with butcher paper on the table so we all got crafty while waiting for our food. By the way, the chicken tender salad has GIANT chicken tenders on top of a bed of lettuce (go for the half-salad) or any of the other items.
MY CREATIONS
After lunch and exploring a small Antique Mall, eCs is an amazing antique finder we were onto store #2 (101-A Northwynd Circle). This location has a better atmosphere in my opinion of a store, it also includes Madewell and more special occasion dress including some gorgeous wedding dresses I saw for $250!
I tried on the scalloped dress everyone was raving about this spring but yellow is not my color.
More things to try on.
The winner!
I picked up the Mandy dress in mint seersucker for $60! So I grabbed two dresses for under $100 so I say it was a successful day. Then we drove back to Chapel Hill and I ran to the grocery store, worked out, watched Gilmore Girls on DVD and called it a night.
Sunday began with heading to church and seeing some big changes to the space that I am not too fond of but it is what it is. Then I headed to check out Homegoods/Michael's since I have decided that I am not loving my bed set and nothing was amazing but I did grab a Despicable Me coloring book for $1! I grabbed one for the college bestie, jCm for when she comes back to UNC for homecoming.
After the window shopping I got a text to watch the Carolina/State baseball game with some of my friends from church so I ran home, ate a quick lunch and changed into some Carolina blue. It was a tough game to watch but it was great to have fellow Carolina fans to commiserate with. Here's to hoping that we can beat UCLA and stay in the College World Series!
I hope your weekends were great! Here is to another busy week!