Hey y'all,
I'm linking up with the lovely Rachel of just peachy for Top 5 Tuesday. This week's topic is iPhone Apps. I have only had my iPhone since the end of September so all iPhone app suggestions are welcome! Here is my Top 5, they are kind of boring but I was raised by parents that instilled in me that a phone is a phone not our entire lives. Let's get started:
My iPhone
1. Instagram. Kind of obvious but I love Instagram, it is just a great way to share photos and experiences with all of your friends. I also use PicStitch to make some collages for Instagram. I now check Instagram I think more than I check Facebook.
2. Spotify. This is the best app for going to the gym. I typically elliptical while watching one of the shows on the big screens but if I am going for a run I grab one of the treadmills upstairs and plug into my phone. I have a really long 5K playlist that I continually add to and would love your playlist or favorite song to run to.
3. Goodreads. The website Goodreads is great but the app is better! Do you ever wander around Barnes and Noble and find a book you want to read, you can scan the book and add it to your to-read list. If you are a bookworm like me I think you should check out the app.
4. WhatsApp. I am currently using WhatsApp while my best guy friend travels the world. This app helps you send texts to friends with smartphones using your 3G or Wifi so for those in other countries they are not having crazy fees and charges. I don't know, I mean I am only using it for communication with him while he is traveling.
5. Facebook. Another obvious choice but I mean, we all love some social media and having the app on my phone helps me to stay connected when I am taking a break from the world.
*Honorable Mention: Bible App. I love that I can have the bible at my fingertips. I do not look that often on this app but I use YouVersion on my computer a lot when I do a devotion in the morning. I just tend to be near a computer or my actual bible when working on a devotion.
What are your favorite apps?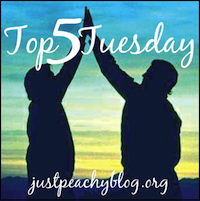 Link up with Rachel