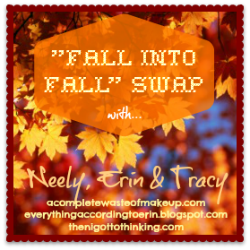 Hey y'all,
I know it has been two weeks but between preparing for the interview, the interview, stressing about hearing back, finding cute ideas for big/little for my only active grand-little(my first little and her little have both suspended their membership this semester) I have just not really felt like myself. Truly. It might have been the nude nail polish, but I haven't been feeling like much of anything(including reading)and therefore I have not been blogging so I hope you understand. I am still waiting to hear back about my interview but I have a phone interview this week as well, so here is to possibilities!
A few days after my trip to Chapel Hill to celebrate both of my Little's 22nd birthdays (they are within a month of each other) and my baby sister's 20th birthday I was excited to find my swap gift from the "Fall into Fall" Fall Accessories Swap. Due to swap partner problems, my swap was a bit delayed but I was paired last minute with Aimee of Aimee's World. I just want to say that I was so blessed with my gifts and truly love everything.
Aimee got me this gorgeous scarf and three mini candles from Bath and Body Works! I am a really picky scent person (I think it has to do with my heightened sense of smell) but I really don't like super spice scents which I know is always in for fall but I love the ones Aimee choose for me.
It is definitely not something I would have chose on my own but I love it and have paired it with jeans and a white shirt when I saw Pitch Perfect with my baby sister. It is gorgeous.
Look at the cute box that held my candles.
I am in love with this stationery.
I LOVE this candle. It is almost gone. Go get Cranberry Woods!
Cinnamon Nut Bread. Probably my least favorite scent of the three.
I am excited to start using this candle. I love fall scents for candles.
Aimee also sent this mini candle sleeve so my mini candles look gorgeous!