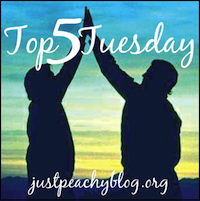 I am so excited to be linking up with Rachel again. Her blog is absolutely one of my favorites and I love the link up of Top 5 Tuesday. Filled with great themes it is always so difficult to narrow down my choices. You can see in the eye-candy one there were lots of honorable mentions on my list. But furthermore, this week was focused on our most worn items. I would have to say that currently my most worn items would be my work wardrobe for my retail job but apart from wearing that about 30 hours a week here are the items I have been wearing constantly this summer.
Top 5 Tuesday
by
janeaustenprepster
featuring
camisole tops
Typical Summer Outfit
Featuring: Hanes White V-neck, Aeropostale Grey Cami, Chinos from Target
1. V-necks. I love a great v-neck t-shirt to wear with anything from skirts to shorts to jeans. It's the perfect basic and easy to dress up with a pashmina or fun colorful skirt. I tend to get mine in a pack in the men's department by Hanes or grab more fitted ones from Old Navy and Forever 21.
2. Nike Tempo Shorts (Norts). No surprise, these are the most comfortable shorts to workout in, run errands, or just hang around the house. I also love Champion's running shorts as another option. I have a lot of options from prints to solid colors.
3. Camis. I wear camis under everything. I don't know about you but I love a more modest look so I put camis under most of my shirts to add length on the bottom as well as if I have a deep v-neck shirt on it is great to feel comfortable.
4. Chino Shorts. If I have to be a little more dressed up but still casual and comfy I grab a pair of chinos. My favorites are from J.Crew, Gap, and Target.
5. Sandals. I alternate between my platinum Jack Rogers and my Rainbow Flip Flops. I can say that I am usually wearing sandals though since North Carolina weather allows one to have nice weather for most of the year.
Honorable Mentions: Flowy Skirts and Tops. During the Summer there is just something great about airflow in your pieces of clothing, flowy and Simple is really my moto for clothing in the summer.
The Webster Miami for Target Top
xhilaration for Target Skirt
What are your most worn items? Link up with Rachel!