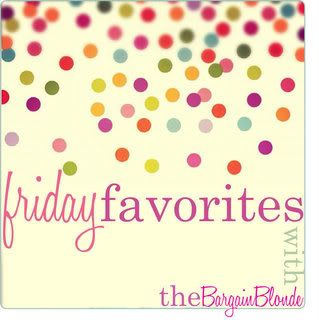 Hey y'all,
This is going to be a quick post because I am running into work in less than 2 hours! But I had a few favorites of the week I have been meaning to share and thought why not join in a link-up and meet new bloggers.
1. My Erin Condren Life Planner ARRIVES TODAY!
It kills me that I might not be here the moment that the planner arrives since according to FedEx it is in NC but not in my hometown yet. I can't wait to fill it up.
My planner has my name on it but I decided a different colorway of pink and navy so I was excited to see this on the Erin Condren Pinterest Board. Now I know I made the right choice. (I also love that Bible verse.)
2. My new devotional series.
Thanks to Allison at Just a Carolina Girl I discovered the wonderful team of women at She Reads Truth yesterday just in time to start the Prayer reading plan on YouVersion. I am going to be reading the Prayer and the Soul Detox plan at the same time. I already read for the first day last night and I loved the interaction on their blog/twitter. I loved the small groups I was apart of during college through my sorority so this is a large group of women focusing on faith through prayer. I can't wait to see what is going to happen over the next 21 days.
3. Scrapbooking.
This past week I finally got in my last order from Shutterfly ( I had a coupon for 101 free prints!) so I have been working on my Senior year at UNC scrapbook. So far I am finally on my second semester since I have been debating over format and I need to print of a few more pictures and then it will be perfect. It has been a great way to reflect on all the good times and memories I made at Carolina especially over the last year.
The front page!
4. A new book!
I finished Lauren Kate's Fallen by the other night. It was good but not amazing. For some reason it really dragged on to me. I am going to grab the second book but I don't know if I can finish the series if it doesn't capture me. However, I picked up Jill Mansell's rumor has it and I am LOVING IT! It is a cute British novel and I am only 50 pages into it so we shall see where it goes.
5. Babysitting.
Last night I had the pleasure of taking care of my best friend's little sisters. They are so sweet and adorable and I literally had a blast watching Beauty and the Beast with them last night. They needed to watch it since they are in a theater summer camp and are performing Beauty and the Beast next week. They are going to be adorable plates and villagers in the angry mob of Gaston.
6. The Color Run Running Plan.
No I am not doing the Color Run in Charlotte. Who knows where I will be living in a few months but I found the running plan on Pinterest. As a not so big fan of running I found the plan really simple compared to the Couch-to-5K plans out there. It is easy to remember and you just need a watch. I am on week 2!
What are your Friday Favorites?
Peace and Blessings,
jDl