Hey y'all,
For those of you that believe that world is ending tomorrow thanks to the Mayan calendar, I guess I will never accomplish any of these goals but, since I believe that we still have one full week left in the year I thought it was time to start thinking of goals for the coming year. Instead of resolutions I think goals are more attainable and I have all of you to keep my accountable!
So here we go:
Grow in my faith and my relationship with God. This is one of my goals every year and it is one that I feel can never really end. I have already bought my new

devotional

for the new year and I am really excited about starting it soon!

Read 113 books. I am such a bookworm that I know that I can accomplish this goal and the number thirteen makes it festive. Plus, my

GoodReads

account really needs some help since my to-read list is almost 300 books and I always love suggestions.

Try 113 new recipes. Another festive number but with living on my own I have gone to the staples of pasta a lot. Time to spice things up and with the help of Pinterest, cookbooks & TV shows like The Chew, I know that I can accomplish this! It breaks down to only 3 new recipes a week and I count desserts and side dishes in the number.
Run a half marathon. 13.1 miles see a trend yet? I need to get back into running and since running a half marathon is on my 30 before 30 I thought why not tackle it this year. We shall see how this all goes but I know that I can do it since I have set my mind to it!!
Lose 13lbs. I know I want to get back to eating healthy and I have gained back some weight since moving out of my parent's house so I need to get back to eating lots of veggies and not eating so much sweets (my office's love of baked goods doesn't help)

but the goal is one pound a month at least. Completely reasonable especially with drinking more water and getting active again!

Craft 13 things. My pinterest has a million ideas and I need to take the time and complete some crafts and feel accomplished. Not to mention goal #10.
Meet 13 new people. It is tough to meet new people now that I work a normal schedule and spend my evenings at home catching up on TV and reading it is hard to expand your friend circle and meet new people especially since I still have friends in the area.
Keep a prayer journal for the entire year. This is one that I want to start and continue for years since I know that I would love to look back on days and see the

power of prayer and the blessings bestowed on me by God.

Buy a car. This is not merely a goal but a reality. It is in my 30 before 30 but I know that my parent's blessed me with borrowing their car this year and I have to return it this summer. But I am excited for this financial adventure.
Finish decorating my place. I still have a long way to go including a trip to Ikea but I am excited to finish decorating my place and making it feel like home. Plus I love crafting and I know that some Pinterest crafts need to be completed to finish off my place.
Go two months without unneccesary spending. I am thinking March and April. This will help my budgeting and help with saving up for my new car!
Send out cards. Whether Birthday, Graduations, Weddings, Christmas, Thank Yous, etc. I want to get back to the tradition of sending cards and best wishes.
Have adventures. I am leaving this one up in the air but I think that my Kate Spade idiom bangle from last year says it all "loose yourself in a good book...add a twist...play your cards right...make sparks fly...be as curious as a cat"
What are your goals for the new year?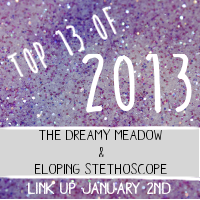 Peace and Blessings,
jDl