Hey y'all,
Yet again I am linking up with Neely and Ashley for Sunday Social and including some inspiring Pinterest pins for your daily dose of weekly inspiration before the dreaded Monday. This week's theme of Sunday Social: MUSIC. This is super hard and I think more difficult from picking a favorite movie since I listen to music all the time and have so many favorites from different genres and I even used to play clarinet so music is a big part of me.
Here goes....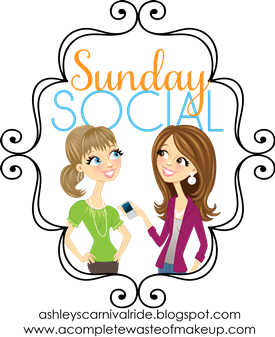 What is your all-time favorite song?
I'm going to have to go with my current favorites first(country mood):
Luke Bryan's "I Don't Want This Night To End"
Kenny Chesney "Come Over"
Carrie Underwood "Good Girl"
Kelly Clarkson "The War is Over" & "Stronger (What Doesn't Kill You)"
But favorite of all time would probably be one of these three:
Carrying Your Love With Me
I Can Love You Like That
I Do (Cherish You)
What is your favorite singer/band?
Singer:Carrie Underwood, Taylor Swift, Kelly Clarkson, Luke Bryan, Kellie Pickler, Darius Rucker, Jason Aldean, Sarah Bareilles, Kenny Chesney, Blake Shelton, Jake Owen, and many more.
Band: Sugarland, The Civil Wars, Brooks and Dunn, The Band Perry, Lady Antebellum, Train, Journey,Thompson Square, Rascal Flatts, Gloriana, Tenth Avenue North, Backstreet Boys, *NSYNC, and many more.


What is your theme song/song that best describes your life?
"Water Tower Town" by Scotty McCreay
"The Boys of Fall" by Kenny Chesney
"Barefoot Blue Jean Night" by Jake Owen
Personally: You Belong with Me(yes I even did marching band in HS)


What songs put you in a good mood?
I love to sing in my car and I especially love country music best but I love a catchy Top 40 pop song or boy band music. Anything with a great beat and I can understand to sing. So no heavy metal or rap music(unless dancing).My favorite last summer would have to be a tie between Dirt Road Anthem (yes, I know the Ludacris rap section too)and Barefoot Blue Jean Night.



What is your favorite roadtrip music?
I like a mix/variety. Here is a smidge of what was on my last Car Jams playlist
Life is a Highway by Rascal Flatts
A Whole New World from Disney's
Aladdin
Bye Bye Bye by *NSYNC
Teenage Dream (Glee Cast Version)
Son't Stop Believing by Journey
Party Rock Anthem by LMFAO(feat. Lauren Bennet & GoonRock)
Small Town USA by Justin Moore
Back at One by Brian McKnight
What song are you embarrassed to admit you love?
Can't be Tamed and Party in the USA by Miley Cyrus
Who Says by Selena Gomez
What Makes You Beautiful by One Direction
Call Me Maybe by Carly Rae Jepsen
What Dreams are Made Of by Lizzie Mcguire/Hillary Duff
*Anything by a former Disney star.
All done! For someone with over 2,000 songs on Itunes y'all are lucky I could narrow it down to those few. Now for some inspiration
Sunday Sayings
Peace and Blessings,
jDl