I am happy that Rachel is back with her Top 5 Tuesday link-up. This week's theme in honor of Valentine's Day is your Top 5 Favorite Romantic Movies. I am the girl that has mainly rom-coms on my DVD shelf so this might be pretty tough. My list is below:
one.The Lake House
I love this story. It because I love hand written letters but it is such a beautiful film and I cry every time. It's an unusual romance of a former tenant and the architect's son but it has such great charachters. It is written very well with lines like, "Life is not a book, Alex. It can be over in a second."
two. Pride & Prejudice
Apart from the fact that I love Jane Austen's writing which makes this a wonderful love story, the cinematography of the film and the music is fantastic. I have spent one summer watching this movie weekly and I still am not tired of it.
three. Dirty Dancing
I mean, who didn't want to go on a family vacation, find a hunky guy to teach them to dance and then fall in love. It is such a summer romance film but I love it and with the passing of Patrick Swayze it makes the film even greater as it has always been my favorite of his films.
four. Definitely, Maybe
A dad telling his daughter how he met and fell in love with her mom through telling her his main three relationships shows you all the heartbreak. I love the way the story is told so you along with Maya have no idea who her mom is and who Will ends up with until the last second. It also discusses happy endings of love stories and how sometimes your happy end is not what you thought it would be.
five. you've got mail
The perfect fall chick-flick, this is such a story of foes who find themselves with more in common then they thought. I watch this movie every fall and even though it is very dated (I mean no one I know still uses AOL mail or even AIM messaging) it is still relevant.
Honorable Mentions:
Made of Honor
Sweet Home Alabama
How to Lose a Guy in 10 Days
The Notebook (of course)
Crazy Stupid Love
Notting Hill
Two Weeks Notice
You can check out the other Top 5's on Rachel's blog and this list of The 100 best romantic movies is great including even Disney movies like Wall-e, Up, and Beauty & the Beast.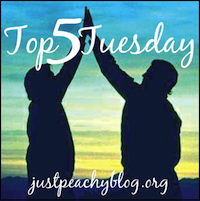 What is your ultimate chick flick/rom-com? Did I forget a movie? Any plans on Valentine's Day?