Hey y'all,
I can always remember coming home and watching Oprah with my mom after school and anxiously awaiting the "Oprah's Favorite Things" show. It marked the Holiday season and highlighted a whole range of things so I thought I would hijack my Wishlist Wednesdays from now until Christmas Eve and make them jDl's Favorite Things. I have already come up with a few topics (favorite foods, home goods, makeup, etc) but if you have suggestions please leave them below. I am also going to host a giveaway of some of my favorite things in December so follow along!
Today I thought I would share some of my favorite small business online shops.
Carrie the owner of Carrie Grace actually attends the same church as me although we have never met, so I am a silent supporter of my church and local/online boutiques. She is such a motivator on Social Media, seriously, you should check out her Instagram whenever you are having a bad day. I stumbled upon her store at the end of last year and was lucky to snag one of the coveted spots of the Necklace Club. Essentially, you pay a little more than $180 (there is a coupon code today for the launch: CELEBRATE) and you receive a necklace at the end of every month. The cost includes the shipping and each month is a different necklace. Talk about a great deal! I mean it comes out to under $16 a necklace+shipping and all of them are worth between $30-50. I just signed up for another year since I seriously get so many compliments on all of the necklaces I have received. This is a great gift for those who love surprises and jewelry.
Here is one of the many necklaces I received: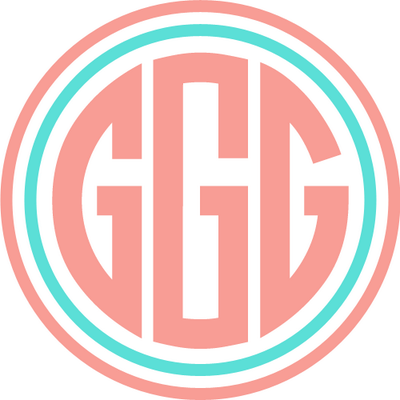 I have been a fan of Gee Gee Gifts back when it was called. It's Gee Gee, Baby but I recently ordered a Monogram Pullover through their deal on Groopdealz and I have been wearing it constantly! It is the Quarter Zip Sweatshirt and guess what, it has POCKETS! Yep, a monogram pullover with pockets! I didn't realize it comes in Men's sizes so be aware of that but I ordered the Medium Black with White Vine Monogram and it is nice and large and comfy. I put it on as soon as I get home from work and even wore it to Big/Little Reveal in this post.

Shelby is so sweet and crafted a beautiful burlap monogram for me! It is the perfect addition to my sewing table and I am in the middle of rearranging things so it can be highlighted more on this small space. She makes beautiful burlap signs as well as gorgeous prints. I think the Marriage Print is perfect for those on your Christmas list that just tied the knot this year, or for an anniversary present! You can check out Airleigh South here.
What are your favorite online stores?