Hey y'all,
Today, for Book Club Friday I thought I would share my book club's most recent read. We read, M.L. Stedman's The Light Between Oceans.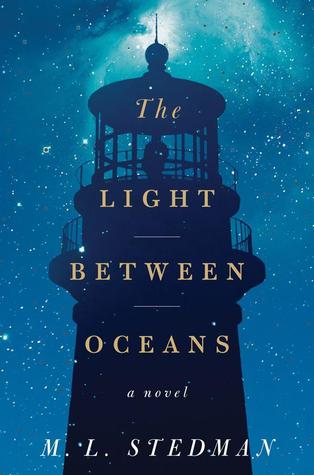 Description
After four harrowing years on the Western Front, Tom Sherbourne returns to Australia and takes a job as the lighthouse keeper on Janus Rock, nearly half a day's journey from the coast. To this isolated island, where the supply boat comes once a season and shore leaves are granted every other year at best, Tom brings a young, bold, and loving wife, Isabel. Years later, after two miscarriages and one stillbirth, the grieving Isabel hears a baby's cries on the wind. A boat has washed up onshore carrying a dead man and a living baby.

Tom, whose records as a lighthouse keeper are meticulous and whose moral principles have withstood a horrific war, wants to report the man and infant immediately. But Isabel has taken the tiny baby to her breast. Against Tom's judgment, they claim her as their own and name her Lucy. When she is two, Tom and Isabel return to the mainland and are reminded that there are other people in the world. Their choice has devastated one of them.

M. L. Stedman's mesmerizing, beautifully written novel seduces us into accommodating Isabel's decision to keep this "gift from God." And we are swept into a story about extraordinarily compelling characters seeking to find their North Star in a world where there is no right answer, where justice for one person is another's tragic loss.

The Light Between Oceans is exquisite and unforgettable, a deeply moving novel.
Opinion
I liked this novel. It was an easy read, but not altogether captivating until you hit Part 3. I felt like a lot of the characters faced terribly heart-wrenching sad situations and very few people are able to be truly happy at the end of the book. Tom is such an interesting charachter having survived the war to take on the role as a light keeper only to begin to pursue a girl/dissuade her from the lonely life. Tom and Izzy have such a great relationship in the beginning of the book only to watch how various factors and decisions apart from one another destroy them. I can honestly say I would never want to be in the situation of living on an island seeing only one person for months on end but it was interesting to see how Stedman weaved that life into the characters. Some of my favorite quotes are below.
"You only have to forgive once. To resent, you have to do it all day, every day."
"Putting down the burden of the lie has meant giving up the freedom of the dream."
What have you been reading this week?